France has delivered its latest figures regarding free movement on its national territory of European dentists : in 2015 a third of new registrants were qualified outside France (source : DREES, Public Health Ministry).
Since three years this proportion has been proved to be a confirmed trend.
The figures speak for themselves : the nationale regulation of this health profession is not a barrier to free movement of young professionals. Directive 2005/36 in this field demonstrates its effectiveness.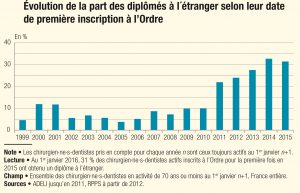 To quote a recent European Parliament's study covering the free circulation of professionals in the context of regulated professions : «It is agreed that this form of mutual recognition works well and has facilitated considerable cross-border movement of professionals inside the EU. Hence, the single market seems to be well-served here.».