A reminder might be helpful during the legislative debate around the draft Directive on the Proportionality Test : the regulation of Health Professions does not hamper professional mobility.
According to the statistics available on DG Growth's web-site from the EU Commission, regulated professions in the field of public health remain the most mobile professions in Europe in matter of free establishment in Europe : in decreasing order we find doctors, nurses, physiotherapists, dental practitioners (20601 establishments since 2005), veterinary surgeons and pharmacists before any other professions, being regulated or not (except for secondary school teachers).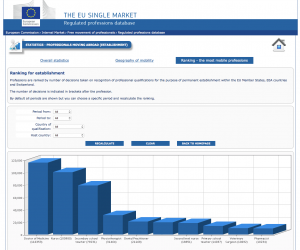 In matter of services, a wider variety of professions – regulated or not- takes place among the stats of ranking, though it is well-known that the professionals' temporary movement is harder to monitor accurately than a professional establishment, given that the ranking relies on the number of declarations made on a volunteer basis by the professionals. For instance a total of 1152 and 933 annual declarations have been collected from doctors and physiotherapists between 2007 and 2016, compared to 3837 and 2317 for ski instructors and tourist guides.